CC Alums Finding a Home in Hospitality, Culinary Careers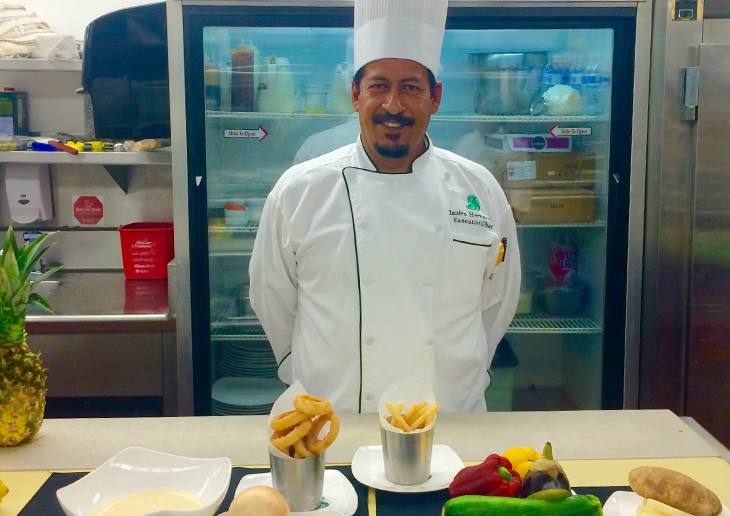 When it comes to illustrating the importance of a community college education in finding a new career, Isidro Hernandez is Exhibit A.
A successful chef in the Coachella Valley's thriving hospitality industry for nearly 30 years, Hernandez, 53, is now an applied science/culinary arts technician at College of the Desert, where he is bringing his extensive industry experience to help others break into the business – all while earning an associate degree himself en route to a new line of work as a college instructor.
"At College of the Desert, we are teaching people how to be successful in this demanding industry," said Hernandez. "I feel proud to see many graduates from our program working at some very important business organizations such as Disneyland, the BNP Paribas Open, the Coachella Valley Music and Arts Festival, and some very nice, well-known local restaurants, resorts and country clubs."
College of the Desert's award-winning Culinary Arts Program provides training for careers in the food service and lodging industries, which comprise one of the fastest-growing sectors in today's job market. Hernandez said it is also a good place to start for someone intent on learning how to teach others about the finer points of cooking.
"For me, it has been an amazing program," Hernandez said. "There is a lot of science and new technology involved in cooking which I didn't realize before. Cooking and baking use a lot of chemistry, physics, and science.
"For instance, when baking you're not working with just simple recipes, you're working with formulas which are based in precise scientific chemical reactions."
Jeffrey Azer and Kurt Struwe, two of College of the Desert's Culinary Arts and hospitality/chef advisors, are among Hernandez's biggest fans.
"Isidro embodies everything we're trying to teach about the hospitality industry at College of the Desert," Azer said. "He is making use of all of the resources we have to redefine himself and his career. The fact that he is also a wonderful, caring human being, makes it even sweeter."
Born in a small town near Guadalajara in the Mexican state of Jalisco, Hernandez moved to the Coachella Valley after graduating from high school in 1982 with hopes of earning a college degree. Those plans changed after he married and had the first of his four children. "I had to choose between raising a family or going to college, so I focused on raising my family," he said.
With an affinity for cooking that was nurtured while watching his grandmother create classic Mexican dishes, Hernandez embarked on a career in the food industry. He first found a job at the Nest Italian restaurant in Indian Wells, where he washed dishes, bussed tables and served as a waiter. In 1983, he began working at Wally's Desert Turtle in Rancho Mirage, where an accomplished French chef took him under his wing, and taught him some of the finer points of fine French dining. He left as the establishment's executive sous chef in 2000, and soon after became an executive chef at the nearby Springs Country Club. After the youngest of his children moved away to attend San Diego State University, Hernandez decided it was time to switch gears and embark on a teaching career.
"I had more time on my hands and I wanted to take what I learned as a professional chef and pursue a culinary arts instructor's career," Hernandez said. "But in order to teach, you need a degree, so I enrolled at College of the Desert."
The Culinary Arts program is designed to prepare future cooks and chef apprentices, providing courses for those seeking personal enrichment to enhance their skills and professional qualifications. The program is designed for cooks and chefs currently employed in the region who are looking to expand explore other opportunities.
"Life is a lifelong learning experience, and in this type of industry you have to be aware, continue learning, keep up with the changes and be on top of new food trends. Doing those things will help you remain competitive and to know what's happening in the vast diversity of services provided by the hospitality and food Industry," Hernandez said. "My goals are to teach and share with the new industry generations some of the things I've learned, and I want to continue improving myself by learning what I have yet to discover about this exiting line of work."
---