Farm-To-Table Education Readies Community College Students for Culinary Careers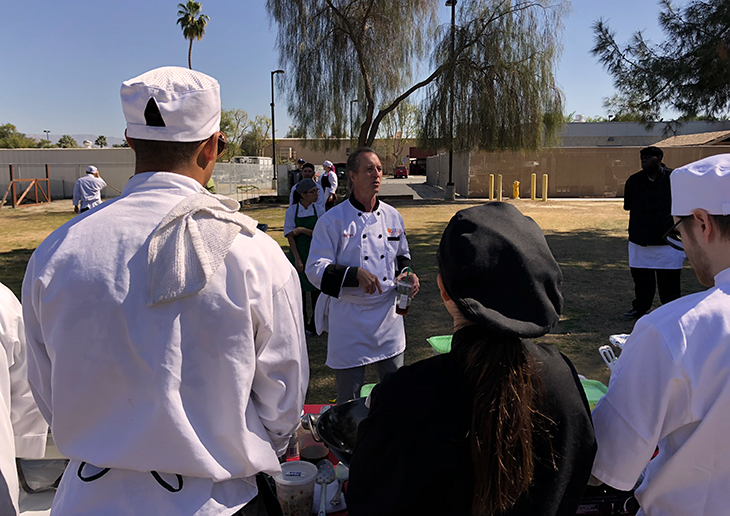 At College of the Desert, the farm-to-table experience is providing hundreds of students with the skills they'll need to land good-paying jobs in high-demand industries.
That's because College of the Desert's nearly one-acre urban farm is serving up the right mix of instruction for several academic departments: not only is it an outdoor laboratory for plant science courses, the urban oasis also provides several hundred pounds of fresh produce each year for both Culinary Arts courses and for the children at the Early Child Development Program's McCarthy Family Child Development & Training Center.
"This has become a very successful partnership," said Jeff Place, a turfgrass management instructor who oversees the farm-to-table program. "The Culinary Arts Program is benefitting, the Early Childhood Development Program is benefitting, my students are benefitting, people are being fed. It's productive for everybody involved."
Place set the wheels in motion some two decades ago by creating what was then a 100-square-foot plot for his plant science classes. Before long, students were growing everything from beans and tomatoes to corn and squash, and the site now hosts five different classes growing produce on the site, with plans to expand.
Culinary Arts instructor Jeff Azer couldn't be more pleased.
"Every single day, our students walk over to the garden, pick our produce, pick our lettuce, pick our green onions, walk back to the kitchen, prepare a meal, and eat," Azer said. "You can't get any more farm-to-table than that."
All of the involved departments are among the dozens in the Inland Empire/Desert Regional Consortium of community colleges that are changing lives daily by providing students with career-ready skills needed to land high-paying jobs and meet industry demand.
The Turfgrass Management program – with courses spanning concepts from Soils & Plant Nutrition to Pesticide Laws & Regulations – is training the next generation of workers designing, building, maintaining and managing large turf areas such as golf courses and ball fields.
The Culinary Arts Program – with certificate and degree programs that include classes from Principles of Cooking to Hotel & Restaurant Operations – is setting students up for careers in the food service and tourism industry, one of the fastest-growing sectors in today's job market.
And the Early Childhood Education program – with courses covering everything from Child Growth & Development to Inclusion of Children with Special Needs – is equipping students with the experience to pursue careers as preschool teachers, and the knowledge to continue their education at a four-year college or university (College of the Desert has transfer agreements with Cal State San Bernardino in the region).
Students also have the opportunity to learn about the burgeoning field of urban agriculture and community gardens.
"Agriculture has changed dramatically over the years, in more ways than one," said Place, who comes from a family with deep agricultural roots in the Coachella Valley. "And urban agriculture, with growing smaller amounts on smaller lots in a farm-to-table type economy, is a growing industry. More and more people are turning to this kind of farming as an alternative."
Hundreds of students benefit. The Culinary Arts program alone serves 300 future career cooks. And preschoolers are introduced to urban farming techniques at an early age.
Grants and community contributions have helped fund the growing endeavor. The Early Childhood Education Program purchases the seeds – which can cost $1,000 or more annually – and irrigation material. A donor is buying a new tractor. Plans call for nearly doubling the size of the farm and adding several citrus trees.
"This is what teamwork is all about," Place said. "I think we're having a huge impact as word gets out."
---