Finding a Career in Water Management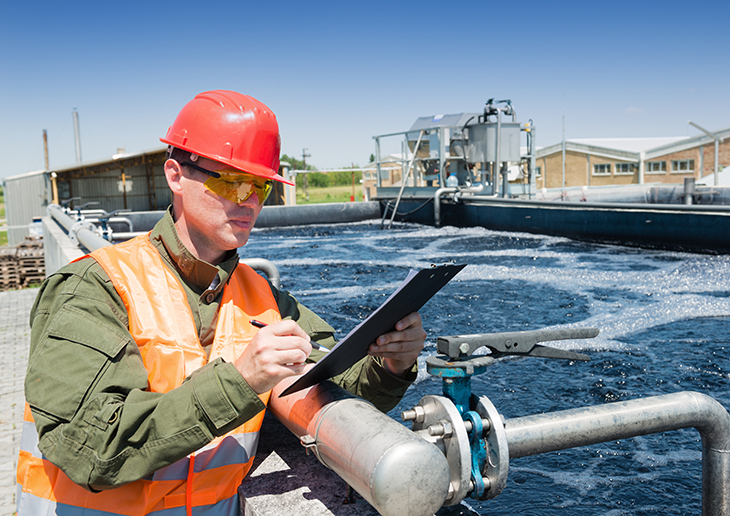 It is an industry with a future. And community colleges in Riverside and San Bernardino County are ready to provide you with the skills needed to embark on a career in the field of water and wastewater operations.
Opportunities abound. More than 11,000 water and wastewater plant operators are employed in California, and most of them are nearing retirement age. The average wage statewide? Nearly $70,000 annually, according to the federal Bureau of Labor Statistics. In Riverside and San Bernardino counties, some 1,200 water and wastewater treatment plant and systems operators were earning an average annual salary of $65,650 as recently as May of 2016. And in neighboring Los Angeles County, the nearly 2,200 water and wastewater treatment plant and system operators are earning an average wage of $76,720.
"It's a rewarding career," said Melita Caldwell-Betties, who oversees the Water Supply Technology program at San Bernardino Valley College. "You could earn a certificate from one of our colleges in a little more than a year and go out and find a good-paying job with great benefits in a field that is always going to be in demand."
Most jobs are with local governments or utilities. A recent opening for an entry-level job as a field operations worker for the Lake Arrowhead Community Services District came with an advertised salary ranging from $17.87 to $30.57 per hour. The City of Redlands recently posted a job opening for a senior water treatment operator with a pay range of $31.16 to $37.87 per hour. And a water distribution supervisor position in Redlands was advertised at $37.27 to $45.30 per hour.
Best of all, bachelor's degrees are not necessary to launch your career. For many employers, an associate degree or certificate in water quality and wastewater treatment technology fulfills the educational requirement, according the California Employment Development Department. Those breaking into the industry typically start off as operators-in-training, to refine their skills under the supervision of an experienced operator. Both water and wastewater treatment plant operators must pass certification exams to be licensed by the State Water Resources Control Board.
Thanks to a growing population, retiring baby boomers, and an increased focus on environmentally sustainable practices, California officials project a healthy boost in demand for water and wastewater treatment services in the coming years. What's more, the industry is recession-proof.
Among the agencies in the region are the Inland Empire Utilities Agency, which serves approximately 875,000 residents in a 242-square-mile area in western San Bernardino County; the Eastern Municipal Water District, which serves nearly 150,000 connections in western Riverside County; and the Desert Water Agency, which has approximately 23,000 water connections serving some 106,000 people in the Coachella Valley.
Fueling the workforce are local community colleges. San Bernardino Valley College, for example, offers a Water Supply Technology program designed to provide students who are either employed or looking for employment in the water and wastewater industry. Courses include technical instruction in water conservation, water distribution, water treatment, wastewater treatment, and backflow and cross connection control.
Likewise, Mt. San Jacinto College's Water Technology program offers both an associate of science degree and a certificate in water technology that prepares graduates for jobs offered by local, state, and federal agencies, while also providing new skills to current workers, enabling them to boost their pay and advance their career.
"Community colleges are your best option," said Michael Majors, who enrolled in the San Bernardino Valley College program and now works as a full-time plant operator-in-training at the Point Loma Wastewater Treatment Plant in San Diego. "You can't beat the price, and they provided me with the training necessary to land a good job."
---