Success in 3-D: Bold Computer Animation Careers Begin at a Community College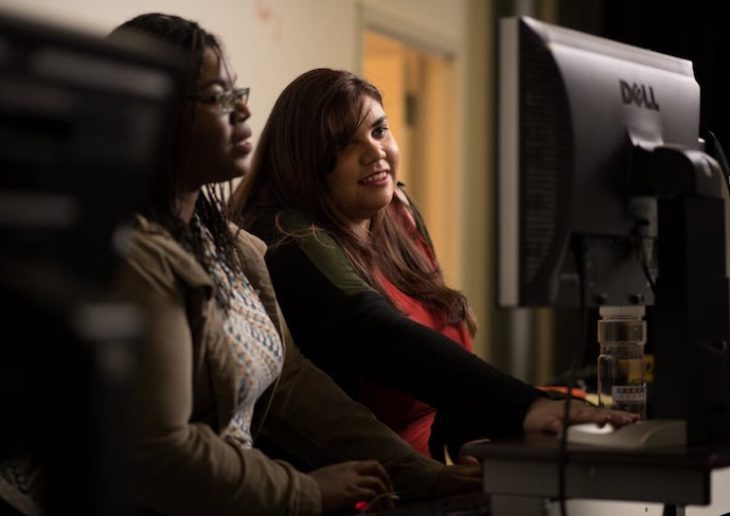 Heather Bernadin was flipping the pages of the Victor Valley College course catalog when it happened. She wasn't looking for anything in particular when her interest was piqued by an introductory, 3D computer animation course. She decided to sign up.
And it changed her life.
"I always liked art, my mom was an artist, and I just thought it was so cool that you could create something on a computer and move it around on the screen and see it in 3D," says Bernadin. "I knew next to nothing about 3D computer animation, and I certainly had never even considered it as a career, but that one class set me on a path to where I am today."
Bernadin went on to secure an Associate degree in computer integrated design and graphics from Victor Valley College and a Bachelor of Science degree in media arts and animation from the Art Institute of California. She now has a job with Reel FX in Montreal, which has collaborated with such studios as Disney, Fox, Sony, Warner Bros., Universal and Paramount.
Despite appearances, Bernadin's experience is not unique. She, like many others, enrolled at a community college in order to get the foundational skills needed for a career as a multimedia artist or animator. Along the way, she earned a career-ready degree at a fraction of the cost compared to other public and private schools.
Among the Inland Empire and Desert region's multimedia and graphics-related degree options are the Computer Graphics & Digital Imagery Programs at Chaffey College and College of the Desert. Both were honored with Strong Workforce Stars from the California Community Colleges Chancellor's Office based on their 107% and 86% increase in earnings, respectively.
Similarly, students in the Graphic Art and Design program at San Bernardino Valley College saw their earnings more than double, while students in the Digital Media program at Riverside City College saw their wages increase by 98%.
Palo Verde College, meanwhile, offers a certificate program in 3D Computer Animation as part of its Computer Information Systems Program where students can take courses on many facets of computer animation and production.
Despite the imaginative nature of animation, the graphic arts and computer animation programs of the Inland Empire/Desert region's community colleges remain focused on providing the practical degrees and skills required to turn one's creativity into a well-paying career.
"The Victor Valley College program got me into this career," said Bernadin. "I was taught by people who are from the industry, and they gave me the tools that got me started."
---